Digital Oilfield Platform
Accelerate mission-critical operations with Wellsite Cloud™
Empower your organization to collaborate and automate complex technical and operational workflows throughout the well lifecycle.
Our Platform
The digital oilfield starts here
Wellsite Cloud is a next-generation digital oilfield platform that combines real-time monitoring with the power of AI-driven workflow automation. It provides teams with the data, analytics, and tools to transform legacy drilling, completion, and production processes into industry-leading digital operations.
Collaboration
Bring the right people and information together in our secure workspaces so they can collaborate effectively with anyone, anywhere.
Real-time data
Stream drilling, completion, and production data from the field to a secure workspace so you can take action on insights in real time.
Workflow
Build and execute repeatable processes with checklist-based process playbooks with workflow automation in one unified location.
Artificial Intelligence
Automate operational workflows with AI-generated, human-validated insights to reduce downtime and operate more efficiently.
How It Works
Everything you need to get started
Sign up
Create a new team workspace in just a few moments. It's free to try for organizations of any size.
Invite your team
Send invitations to both internal team members and external stakeholders like vendors or customers.
Try it out
Run a project, coordinate with vendors, or connect a real-time data feed and automate activities.
Channels
Collaboration that goes beyond messaging
The foundation of the Wellsite platform is channel-based collaboration. Channels allow you to interface directly with data and apps and use slash commands, automation, and integrations to help reduce context switching and stay in the flow.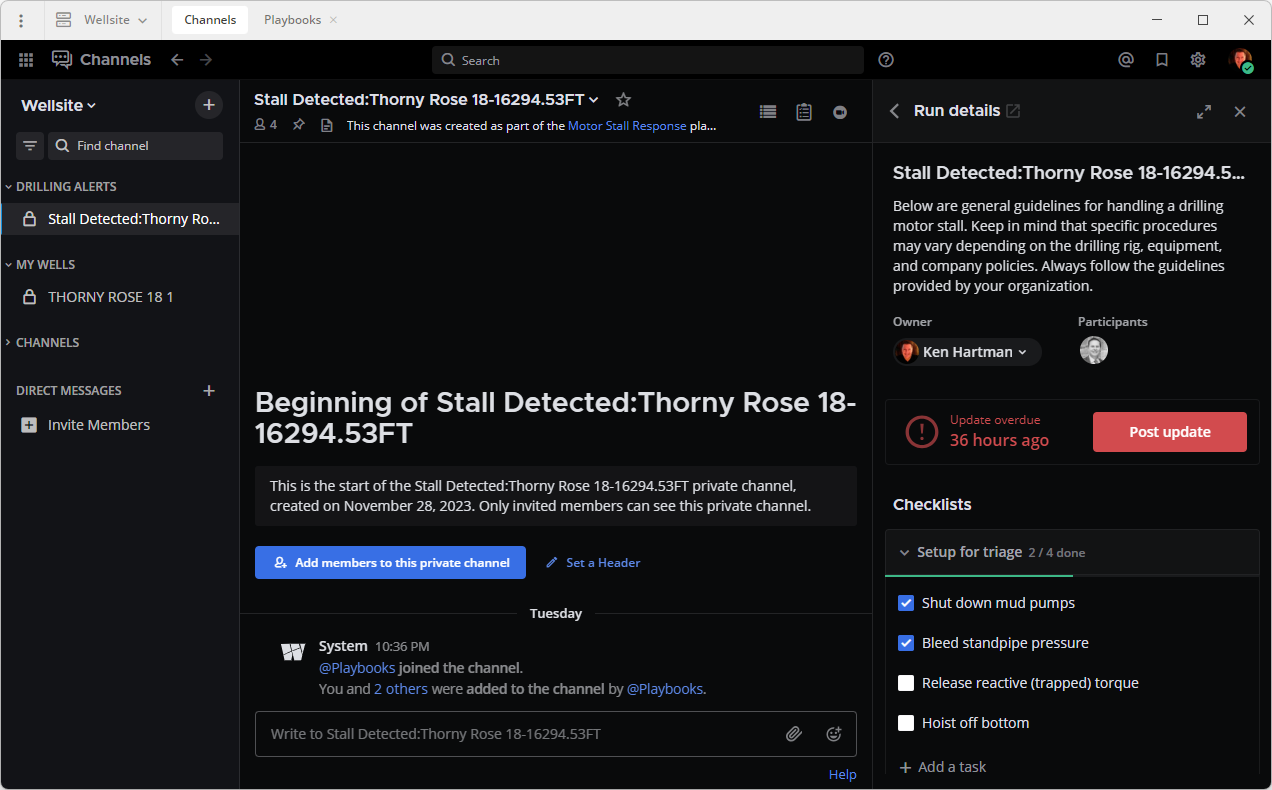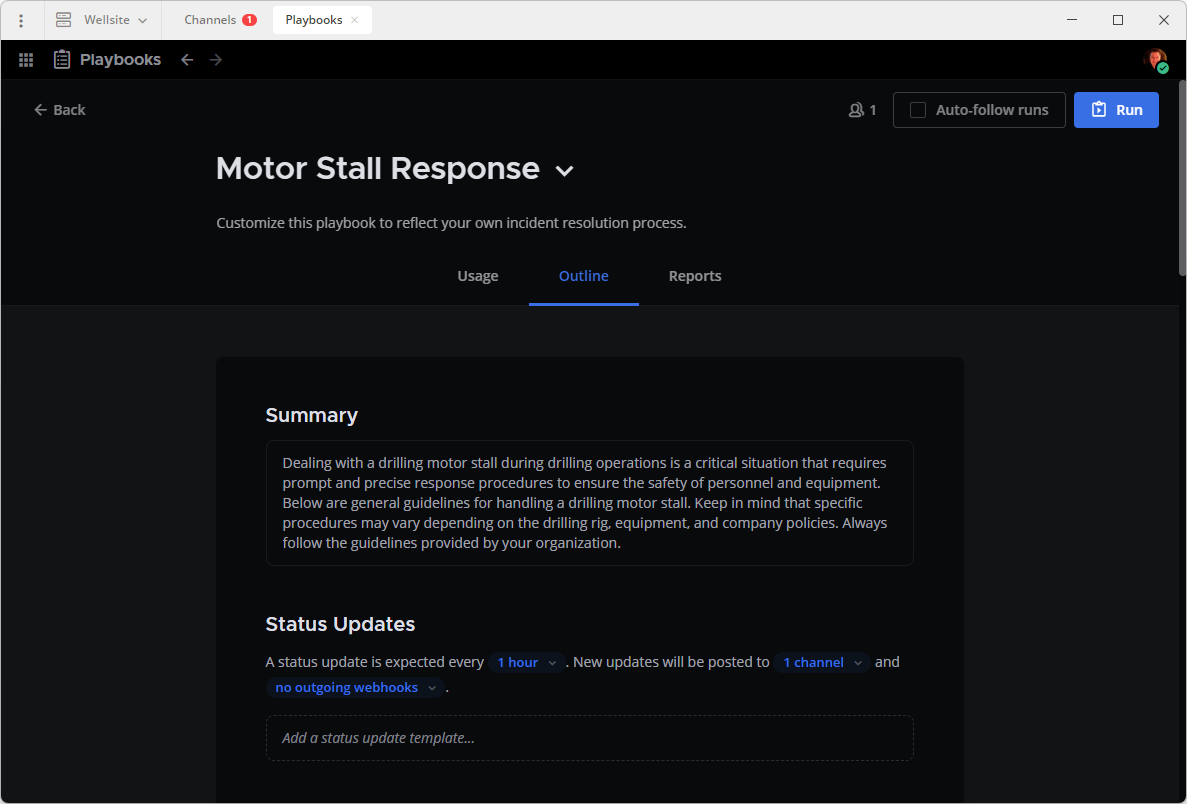 Playbooks
Streamline complex, recurring processes that enable teams to achieve specific, predictable outcomes
Use configurable playbooks with built-in task checklists alongside real-time messaging so everyone knows what's happening now and what to do next.
Boards
Gain visibility into ongoing projects and tasks
Boards help you manage your projects, organize tasks, and collaborate with your team. A board contains cards, which typically track tasks or topics, and views, which define how to display the cards or a subset of them.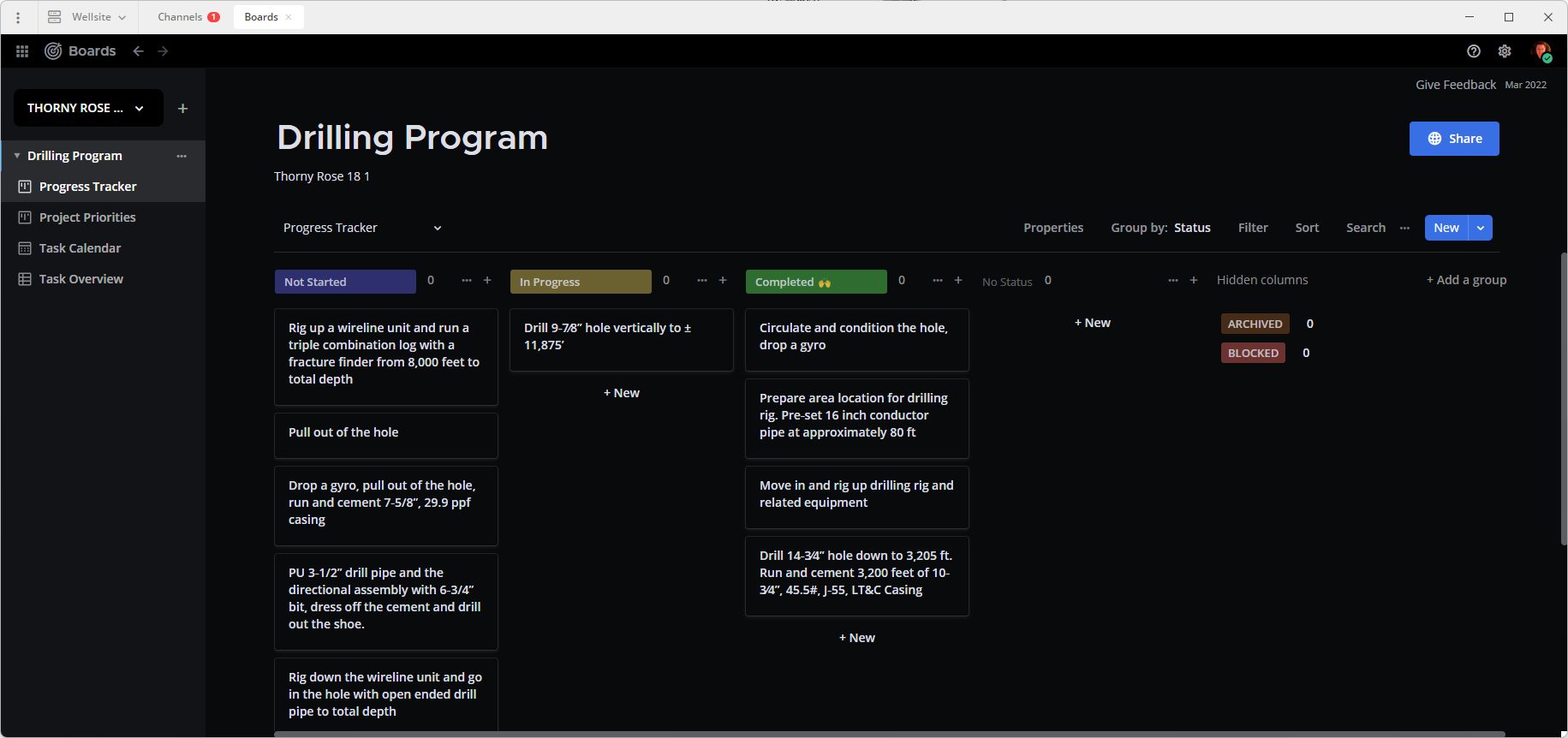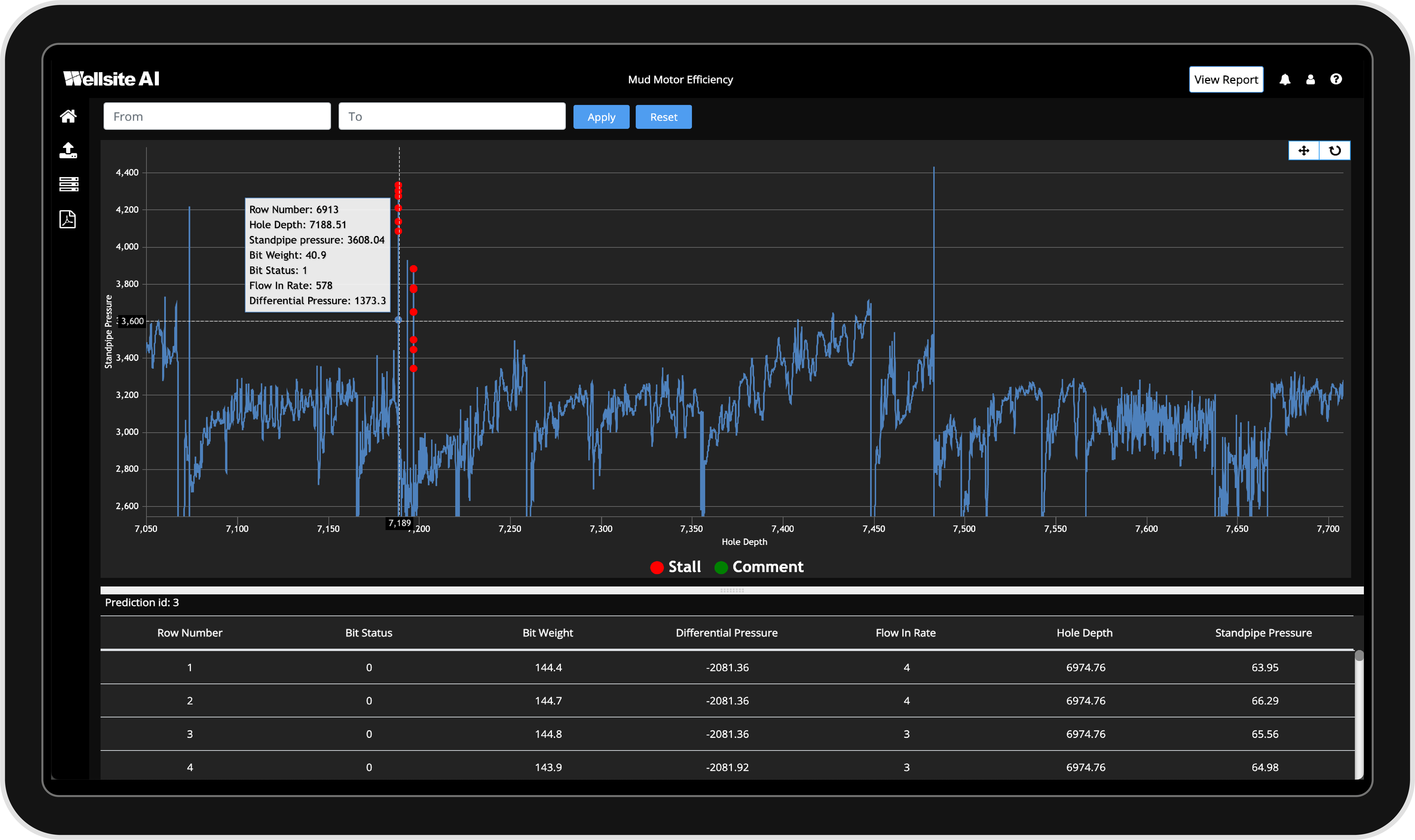 Artificial Intelligence
AI-generated, human-validated insights at scale
Leverage our library of pre-trained machine learning models that optimize decision-making and reduce operational costs.

Event Detection models:
Motor stall, kick, stuck pipe, loss circulation, tool failure, bit wear, etc.
(see roadmap for model availability)
Drilling
Wellsite gives operators and oilfield service providers a more dependable method for enhancing drilling performance, allowing them to deliver the best outcomes while improving overall performance.
Completions
Wellsite transforms your completion process, seamlessly connecting drilling to production. Optimize well completions, track crucial data, and ensure project success with our integrated platform. Experience efficient completion management and maximize results.
Production
Refine best practices and drive operational excellence at scale. Editable incident timelines, channel transcripts, and configurable metrics help track performance over time.
Resources
Recent articles
How Tech Innovation Enables More Efficient Oil & Gas Collaboration
7 ways to improve digital Oil & Gas collaboration in 2022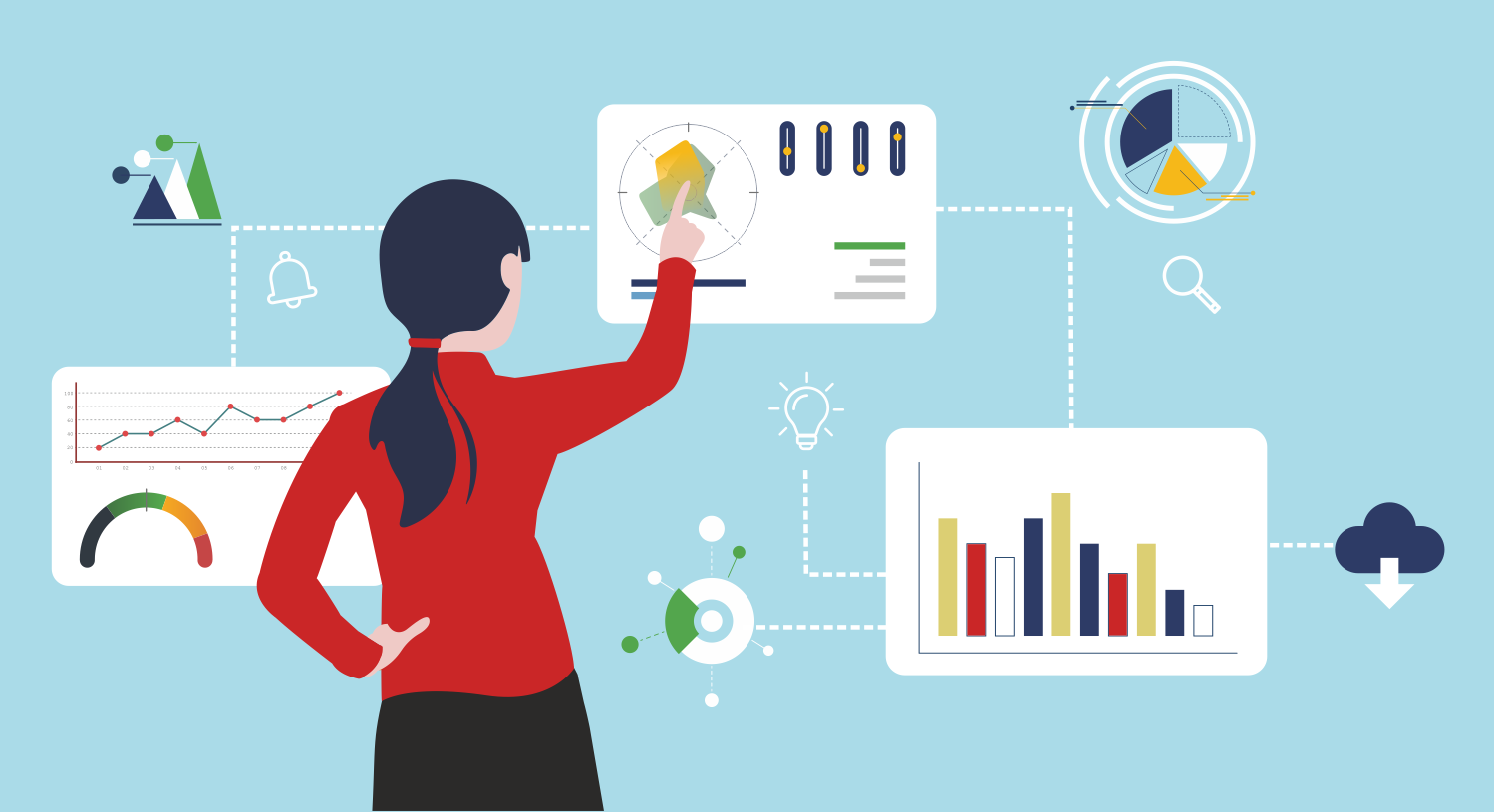 Innovate and Consolidate With OSDU Data Platform
New Open-Source Data Platform Can Improve Data Interoperability for the O&G Industry
Exploring Digital Operations Platforms for Oil and Gas
How Digital Transformations Through Innovative Platforms Can Open New Avenues for the O&G Industry
Success Story
AI-Driven Workflow Automation
A U.S.-based operator leveraged Wellsite AI for real-time identification of drilling motor stalls.
Upon detection, Wellsite initiates automated workflows, notifying drilling engineers and team members through private channels and mobile apps, enabling prompt action, adherence to pre-defined protocols, documentation of corrective measures, and real-time status updates.
This streamlined workflow not only has the potential to save companies money by avoiding unnecessary rig downtime and fees for damaged rental equipment but also enhances Health, Safety, and Environment (HSE) outcomes by minimizing injury risks associated with frequent pulling out of the hole – a scenario where most injuries occur.
In this case, identifying a potential motor stall resulted in an estimated $70,000 in cost avoidance for the customer.